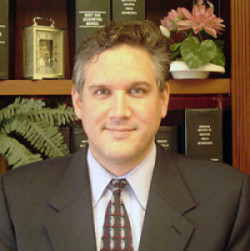 Corporate, Partnership & Non-Profit Taxation
Brian Davis joined Ross & Moncure after operating his own public accounting and tax business for eight years. He has extensive experience with small businesses, business owners, entrepreneurs and high-net-worth individuals. His experience with a Big Four accounting firm taught him the minutiae of the Internal Revenue Code; his experience with a small accounting firm taught him to understand his clients as people, and how to apply his technical expertise in a common sense manner to assist his clients.
Brian began his career more than 20 years ago doing tax returns by hand, with pencil and paper. He has a BS in Accounting and an MS in Taxation from George Mason University. He also earned an executive certificate in Financial Planning from Georgetown University. He grew up in a Navy family, living in Japan, Hawaii, San Diego, Seattle, Rhode Island, Northern Virginia, and Washington, DC. Brian commutes by bike from his home in Washington, where he lives with his wife and two children.
@: brian.davis@rossmoncure.com
T: +1 (703) 549-5276
F: +1 (703) 549-6517
For appointment requests: nataya@rossmoncure.com